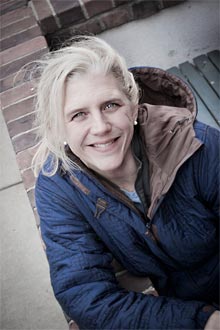 image credit: Lindsay Raymondjack
Susan Teare photographs residential and commercial architecture and landscape design. Her work is featured in publications including the widely praised Salvage Secrets (W.W. Norton, 2011) and a series of idea books from Taunton Press (2012), as well as Better Homes and Gardens, Fine Homebuilding, This Old House, Boston Globe Magazine, and Natural Home and Garden. She is also profiled in the June 2012 issue of Professional Photographer Magazine.
Susan works with a number of leading architectural design firms, builders, construction companies, and craftsmen nationwide. She is currently shooting interiors for the DIY Network and is a contributor to HOUZZ.com. She also served as a photographer for ABC's Extreme Makeover—Home Edition.
Natural light, materials, and sense of place are key elements in Susan's photography: "My hope is that you'll be drawn in through an image to really understand what makes the subject unique, but also to appreciate how the design process played an essential role in creating that space."
A graduate of Bowdoin College with a B.A. in art history, Susan studied under Norman McGrath at Maine Media Workshops in Chicago. Her professional background includes extensive marketing and sales experience with both nonprofit and corporate clients. Susan enjoys skiing and snowboarding with her husband and two children near their home in northern Vermont, and performs therapy work with her Newfoundland, Alli, at Fletcher Allen Health Care.
Memberships & Associations

AIA, Associate Member
ASMP